After we got to Puerto Montt we had 6 days time to do everything, we needed to do before Moritz mum arrived. We washed our cloth, cleaned our tent, updated our blog (unfortunately only the german part) and did nothing. Luckily there were no tourist attraction in the town so we did not feel bothered to leave the hostel. Our travel guide recommended us to go to the cinema. We skip that and went to the local fish market, even though we boh do not eat fish…
After almost one week of relaxing, we picked up Moritz mum and her friend, Ulli, at the airport. We had a rented car to explore some parts of southern Chile with them. The two has seen almost all of Chile in the week before, we made a more relaxing scedule - which was quite fast compared to cycling. We went to the island of Chiloe for two days and visited a penguin colony, birds and some of the famous wooden churches.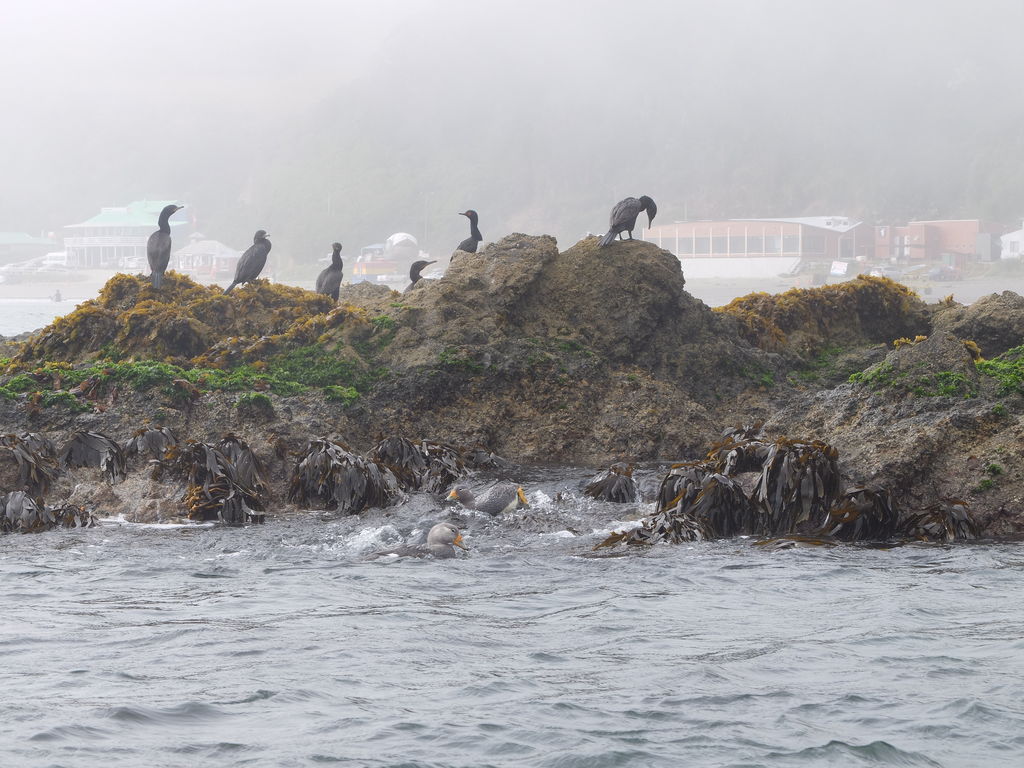 The birds in the center are called Fuegian steamer duck
After we saw enough wooden churches we drove to the Lake Region". First around Lago Llanquihue with an amazing view of the Osorno volcanoe. A short trip to another lake, which was crowded with tourists and took us much longer than expected, but in the evenings we arrived at "Termas Aqua Caliente". This was our little surprise for the two fast travellers.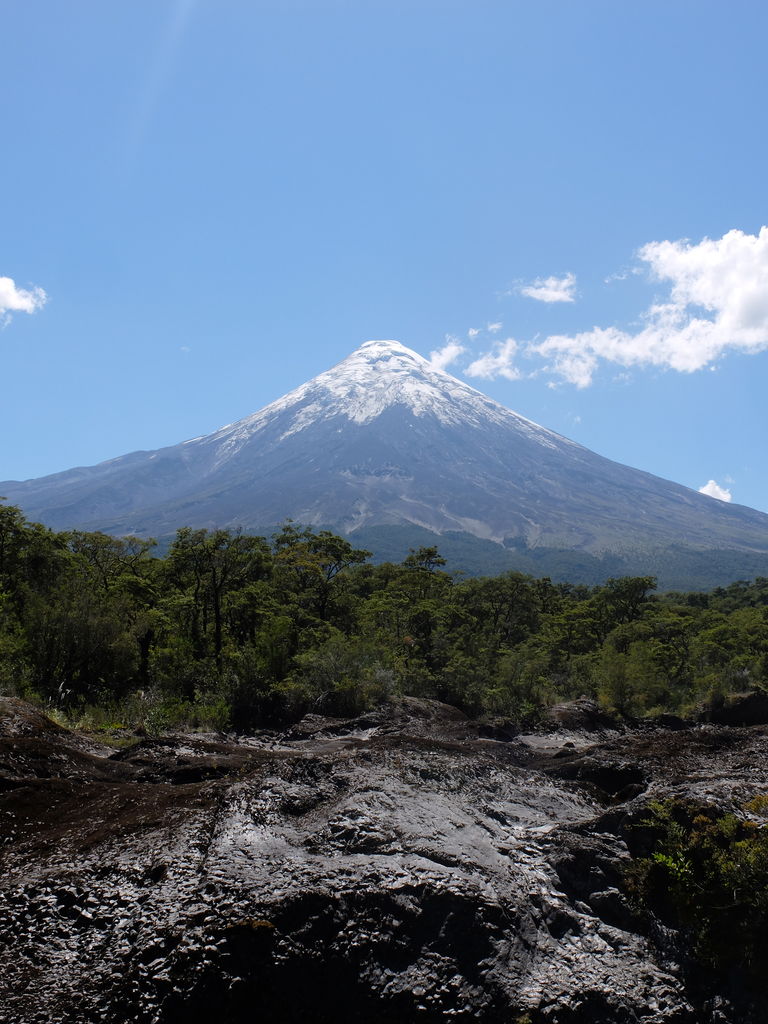 Volcanoe Osorno
We had booked a luxury tent ("Domo") wih access to a thermal bath. Out of unknown reasons, the tent was not available and we were upgraded. We got a little hut, with two rooms, a big kitchen and our own hot tub. Nice coincidence, we were able to take a bath in our pot before dinner, got cooked and had a glas of wine. The proper termal bath was suddenly much more unatractive, but we paid a visit next morning as our pot was cold again. Being totally relaxed we continued our tour with a visit of some waterfalls. Well, just one, it was too rainy to visit another one.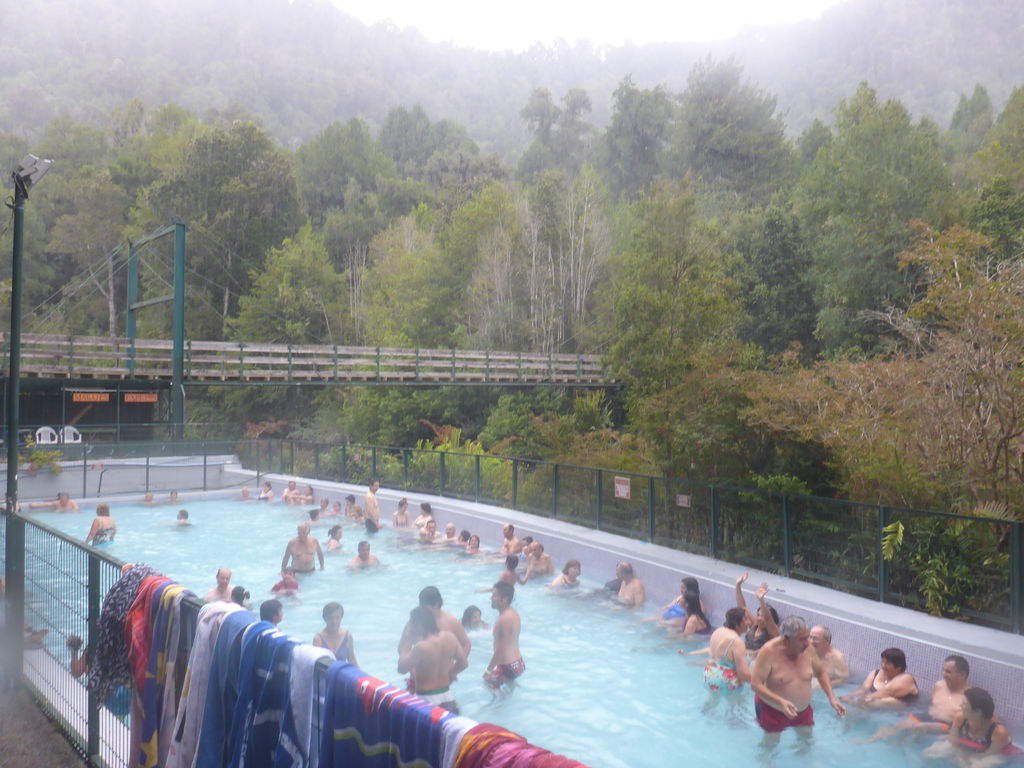 Outdoor poor of the termal bath
A similar amount of water was dropping from the sky as from the waterfall. We decided to hide in the car, but the rain followed us the two next days. All of the oher nearby volcanoes were hidden in clouds, all the way up to Pucon. Instead of climbing up the volcanoe, we went inside - into a lava cave. We had amazing views - cow shit and a nutella cave.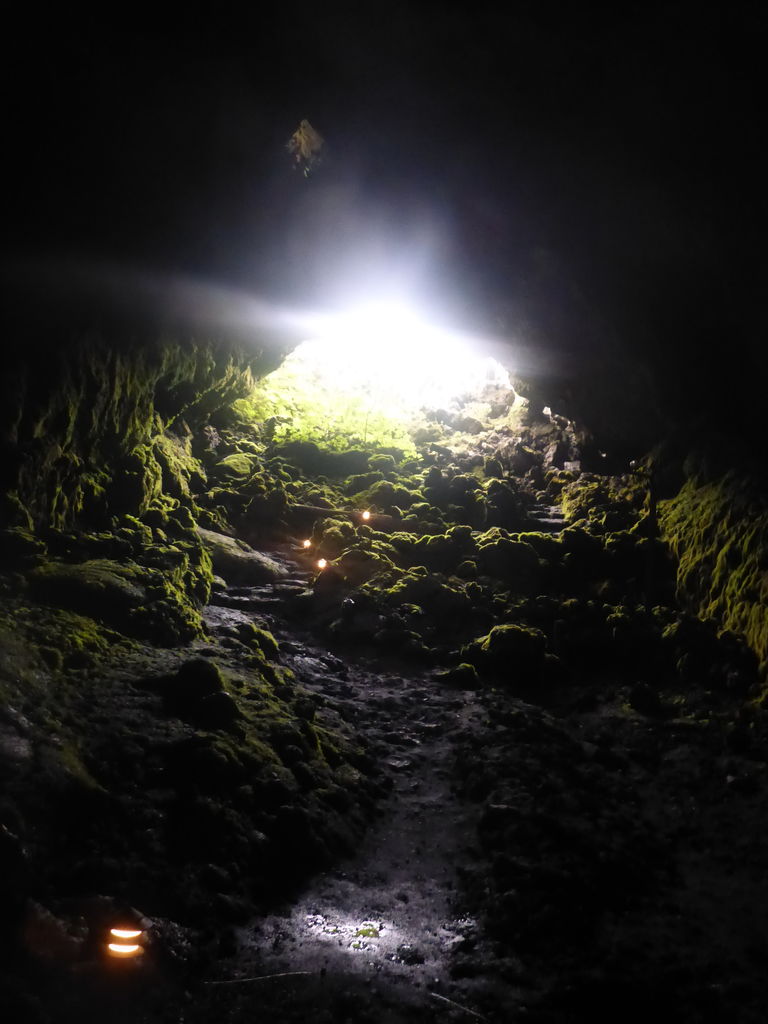 Lava cave
Next day we needed to drive the car back as Moritz mum and her friend went back the next day. We returned to our bikes to Puerto Montt. Thanks to all the little things Moritz mum brought, we were able to pimp our bikes a little bit. Martha also got a new sleeping bag, must be good - she is sweating.
Befor we headed to Santiago, we went to the neighbouring city with our bikes, to meat some new friends for a beer. The only activity which involved our bikes, 25km each way. To get to Santiago, we decided to take it easy - we took the bus. There, we had the same scenery as before - washing cloth, pack our stuff and doing nothing special. But he nothing special included some sightseeing this time: the "Museo de la Memoria y los Derechos Humanos" and riding up one of the hills in a funicular.